Deep Dive: A Capital Planning
Executive's Perspective on Trends
In the BioPharma Industry
The biotech and pharmaceutical sectors flourished in 2021 due to a low-interest rate environment and strong pandemic-driven demand, achieving
top-line growth of over 30%
. However, 2022 proved to be quieter as financing waned and large companies shifted their focus to divesting non-core assets.
Fortunately, the industry has accumulated significant cash reserves and is poised to deploy them productively in 2023, both for capital investments and mergers and acquisitions (M&A). In this deep dive, we'll take a look at the key trends shaping the biopharma landscape as it enters a new era of innovation.
Capex gains renewed prominence
In the biopharma sector, small companies typically invest in R&D to develop new drugs, while larger firms focus on acquiring promising businesses through M&A. This approach stems from the high cost and often low success rate of drug development; small companies need multiple attempts to establish a foothold, while large players prefer acquiring companies with proven products and leveraging their resources and expertise to navigate regulatory challenges.
Nonetheless, with a range of emerging technologies coming to market, large companies are increasingly turning to Capex to stay competitive. Following three consecutive years of decline, Capex in the biopharma sector
grew 22.3% in 2022
.
McKinsey
highlights this trend, stating that "managing capital expenditure has not been high on the agendas of most CEOs in the pharmaceutical industry…it was equivalent to just six percent of their revenues [in 2017], and much of it was deemed essential to delivering important drugs…Yet times are changing. With drug prices under pressure and investment needed to improve the value of drug pipelines, capital-expenditure management warrants greater attention."
While Capex has long been overlooked in the industry, many companies have significant dry powder ready to be deployed into productive projects.
Large firms are eager to deploy cash reserves
Despite the 2022 slowdown, large biotech and pharma firms are awash in cash, driven by a compound annual growth rate (CAGR) of
19.3% in free cash flow
between 2015 and 2021. As
PwC notes
, "balance sheets and cash flow across the industry remain strong."
However, increasing capital costs mean higher hurdle rates for new investments, requiring capital allocators to be selective with new projects.
Experts anticipate
"divestitures of assets deemed not core to growth" that will
leave room for
"companies to double down on their core competencies to drive a higher return where they can fully leverage their existing capabilities."
Ultimately, as investors shift toward
more cautious capital deployment
, credibility has never been more important. "It is no longer enough to rely solely on a promising idea and a charismatic team — in this financial landscape, both investors and biotech companies must prioritize reliability and return on investment (ROI)." Investing in intelligent solutions that help evaluate ROI in real time can create a key competitive advantage going forward.
Next-generation therapies power growth
The process of creating and manufacturing new drugs has changed significantly in recent years. According to the
National Library of Medicine
, while "small-molecule drugs have dominated the pharmaceutical industry since the beginning of modern medicine, we seem to be approaching the era of biologics." Biologics hold a number of advantages over small-molecule drugs, including being more target-specific and having fewer side effects.
This
shift in drug production has driven
"continuously rising overall Capital Expenditure (CapEx) across different market cap groups" as the industry adapts to the new normal.
mRNA technology
Moderna's mRNA COVID vaccine had far-reaching impacts across the globe, and the company is doubling down on the technology. It invested
over $350 million
in Capex in 2021, primarily for expanding COVID vaccine capacity and enhancing technical development, clinical manufacturing, and facility infrastructure.
mRNA vaccines hold several advantages over traditional vaccines. Instead of the "weeks or months"
required to develop traditional vaccines
, "mRNA vaccines can be quickly designed, tested, and mass produced…[and] are also safer because they do not contain live viruses."
More than $10 billion
was invested by public and private organizations to boost COVID vaccine capacity in 2021, and "unprecedented production capacity awaits even though capital expenditures inspired by the initial COVID-19 crisis have started to wane."
Startups are taking advantage of the mRNA opportunity.
Resilience
, a California-based biopharma startup, "has raised over $2 billion in equity financing and has big ambitions to put biomanufacturing on a similar footing to semiconductor manufacturing." Other
new market entrants
, such as "Nutcracker Therapeutics and Creyon Bio are incorporating automation, continuous-flow manufacturing and biochip-based microfluidics devices to accelerate the next cycle of mRNA innovation."
mRNA technology successfully navigated its first global test during the pandemic, and insiders believe it will be a key source of growth for the biopharma industry as a whole.
Gene and cell therapies
Gene and cell therapies are another major growth area for the biotech and pharma industries. The global gene therapy market
reached $7.5 billion in 2022
, and is expected to grow at a CAGR of 19.1% throughout the rest of the decade. This growth is "attributed to the factors such as expanding the area of advanced therapies along with gene delivery technologies… biotechnology companies are investing in acquisitions, mergers/collaborations, and expansions as key strategies to increase in-house expertise and strengthen product pipelines."
Cell therapies, such as CAR-T, have shown promise in treating various cancers and other life-threatening diseases. The FDA expects "10 to 20 new cell and gene therapies to be approved each year by 2025." As a result, the global cell therapy market is projected to
grow at a CAGR of 14.1%
between 2023 and 2030, and is "constantly growing to include new cell types, which presents a significant opportunity for companies to strengthen their market positions."
With "substantial capital flowing in from private investment, initial public offerings, and corporate acquisitions," gene and cell therapies stand to gain a more prominent role in the biopharma sector in the coming years.
Artificial intelligence (AI) is reshaping pharma
As biopharma supply chains have grown more complex and far-reaching, digital investments have become crucial to better manage operations. Antiquated paper- and spreadsheet-based processes are error-prone and unable to handle real-time data, and are no longer acceptable in the current environment.
Biopharma companies are seeing the writing on the wall, and strengthening their digital muscles accordingly.
ABI Research
predicts that "spending by pharmaceutical manufacturers on data analytics [is] forecast to grow by a 27% CAGR and be worth US$1.2 billion in 2030, as manufacturers look to track, optimize their operations, and boost productivity."
Much of these data analytics investments are related to AI. Along with providing deeper insights into operations, AI is expediting the drug discovery process by analyzing large datasets, identifying potential drug candidates, and predicting their effectiveness and safety. As a result,
the market for AI
in the "drug discovery market is expected to grow at a compound annual growth rate (CAGR) of 41.5% from 2021 to 2028."
Morgan Stanley
anticipates that AI-driven improvements in drug development "could translate to a more than $50 billion opportunity."
Due to the range of benefits that AI and machine learning (ML) provide to the sector, many industry professionals believe it will be the most disruptive technology in 2023.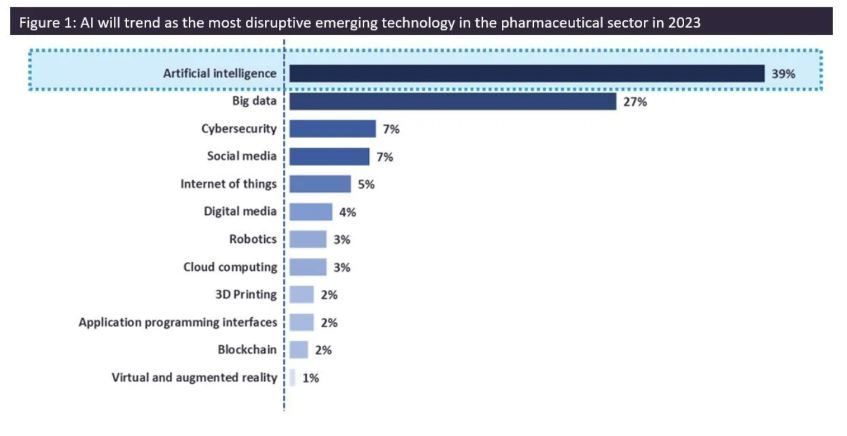 Source:
Pharmaceutical Technology
A new era of biopharma is here
The biotech and pharma industries have a promising future ahead, with personalized care, next-gen technologies, and strategic investments driving growth. The sector as a whole has ample capital to put to work, and ensuring that it's allocated to the highest risk-adjusted ROI projects is more critical than ever.
To see how intelligent solutions like Finario can optimize your capital portfolio for the new era of biopharma,
request a demo.