Get it done. Get it right.
Timely, accurate forecasting is critical to Capex excellence. Finario's capital project forecasting software makes the entire process better.
Better visibility, more precise predictability based on properly vetted assumptions and strategically-aligned decisions. That's the power of an integrated and automated solution like Finario.
SEE HOW FINARIO CAN IMPROVE YOUR CAPEX FORECASTING
Removing Bias from Forecasting Models
Studies in behavioral finance reveal a rampant tendency for project owners to be overly optimistic in estimating the time and cost required to complete their projects. Moreover, they do so without regard to bodies of evidence indicating that similar tasks have run late or gone over budget.
This bias, called the planning fallacy, if unchecked will invariably lead to project delays and cost overruns. So what can be done about it? To start, a Capex system such as Finario, ensures that project forecasting is completed using established/templated input criteria. It empowers "reference class forecasting" — which means an ability to compare completed projects to those being proposed. Lastly, change tolerances can be set which, when exceeded, automatically trigger a requirement for re-approval — which discourages over-optimism. 
"A lack of internal discipline, in both the proposal and management stages of a project, raises costs – both of individual projects and entire portfolios of investment."
— McKinsey & Company, Why Capital Expenditures Need More CFO Attention, 2015
Let It Roll? Capex and Rolling Forecasts
An annual budgeting process can take months to complete, with some suggesting that – as business conditions quickly change – they can be flawed even before "the ink dries." To address this, many enterprises have instituted rolling forecasts, meaning updates are made every month or quarter, enabling finance leaders to pivot more quickly as new challenges or opportunities present themselves.
Re-forecasting complex capital investment projects, which often have many dependencies, can be challenging without the right tools in place. Finario presents a single source of truth and can integrate and match actuals to project forecasts, making the process infinitely easier. Moreover, because large projects often span time periods independent of a typical rolling forecast, you need the ability to move them in and out – which Finario also makes much easier to do.
Deliver critical insight into overall investment performance and enable analyses of the variance between estimated and actual spend.
A DEEPER DIVE INTO FINARIO: CAPEX FORECASTING SOFTWARE

 When data is always up to date … projects have been itemized at a detailed level
… and forecasting is forward-looking, accuracy is ensured
and critical decision making will invariably be better.
Integrate Actuals: Once approved, all costs for an investment can be forecast from a single view. Each cost can have multiple cash flows spread out over multiple months and as many years out into the future as desired. If additional costs come to light, they can be easily added.
Set Thresholds: Easily set a change tolerance threshold which, if exceeded in the forecast automatically invalidates the investment's approval and is re-routed to supplemental approval. The system also automatically prevents an inadvertent breach of this threshold.
Update Automatically: You can set the system to automatically apply payments to matching costs and have the project's forecast updated automatically. They can, of course, also be added manually. This and other features of Finario make forecasting easier and more accurate.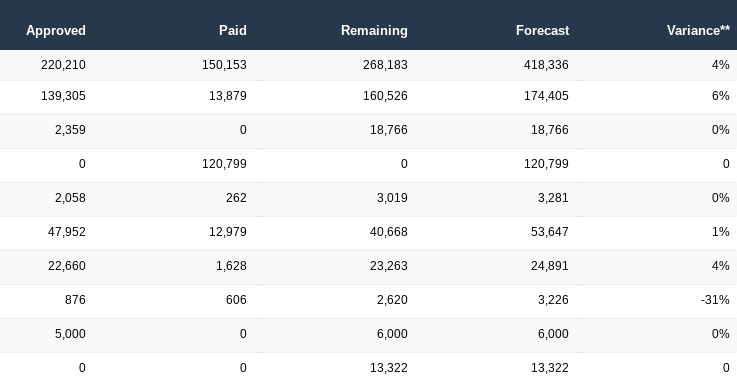 "Companies that are good at forecasting saw overall share prices rise a third more than other companies …"
Is Finario an EPM?

Technically, no. But you can think of it as an EPM specifically for Capex.

A traditional EPM is focused on departmental budgeting, and treats capital projects as merely a line item. Total project cost, or total cost by month and associated depreciation. That's it. Very "two-dimensional."  And while, yes, there is some simple workflow, it's rarely enough for the typical complexity of a Capex approval process in a large enterprise.

Finario, on the other hand, is built around projects (called "investments" within our system). A large investment can contain dozens of costs, each with their own month-by-month cash flow along with a written rationale, ROI model, file storage and other capabilities enabling analysis and management of the project from idea inception, through budgeting, approval, forecasting and post-completion review. The template is flexible to allow as much information as necessary on large or strategic investments, or the bare minimum for small routing expenditures. And each investment's cost detail is automatically consolidated into a multitude of budgeting and forecasting reports by entity and fiscal year – giving FP&A professionals exactly the information they need.

Our solution also tracks each investment's progress as a project against its budgeted and approved project goals, which may span multiple fiscal periods. This data is automatically rolled up into a bevy of reports and tools that give operations and procurement executives the information they need to manage projects intelligently and optimize the overall project portfolio.

Because of this, most of our customers have a traditional EPM and Finario.  For a capital-sensitive company, this is the ideal finance stack that replaces both homegrown Capex approval systems as well as scores of spreadsheets.
Can Finario integrate with our ERP to update actuals automatically?

Yes. The Finario API makes the exchange of data seamless.  You can import capital project invoice and payment data into Finario from your ERP to facilitate timely re-forecasting.  You can also feed your Procure-to-Pay or Source-to-Pay workflow with approved Capex requests and update your Finario projects with approved vendors and purchase orders.
Project Forecasting Resources for Finance Professionals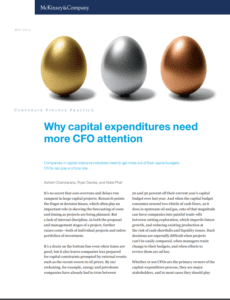 From Finario Executive Briefings
How to Optimize Capital Project Forecasting